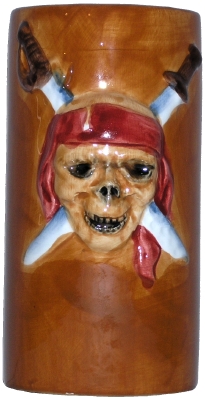 This 14 ounce, glazed ceramic mug depicts a swashbuckling pirate on one side and a skull on the other. The pirate has a hook for a hand on his right arm, a patch over his right eye, a wooden peg left for his left foot, and a sword in a scabbard in his left hand. He obviously has experienced a few rough battles. The skull is wearing a red bandana and has two crossed swords behind it.
In raised lettering on the bottom is "DW542″ and "Made in China".
Found in the Dynasty Wholesale and Mug Collections.