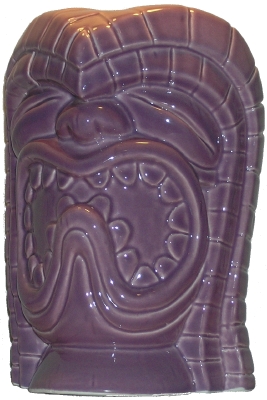 This Munktiki limited edition Tiki mug, designed by Derek Yaniger, was limited to a run of 300 mugs. My particular mug is number 156. This purple-glazed mug stands approximately 6 3/4 inches tall and depicts the Hawaiian god Ku, the god of war.
On the back of the mug is "Tiki News Presents Hawaii-a-Go-Go", "Tiki Oasis 7″, and 2007″. On the bottom of the mug, it reads "Munktiki *Derek", "Tiki Oasis 7″, "156-300″, and "© 2007″.
Found in the Labeled, Mug, Munktiki, Polynesian Pop, Tiki, and Tiki Conventions Collections.