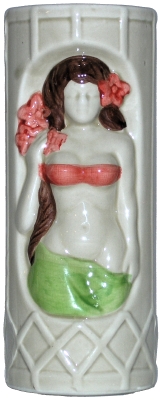 This 12-ounce glazed ceramic mug, produced for Dynasty Wholesale, is most likely a reproduction of the Orchids of Hawaii R-79 Lani mug. This mug features a suggestively-clad buxom girl with hibiscus flowers in her hair.
One the bottom of the mug is imprinted "Made in China" and "DW141″.
Mugs similar to this can be found on page 89 of Tiki Quest - Collecting the Exotic Past by Duke Carter.
Found in the Dynasty Wholesale, Hawaiiana, Mug, and Polynesian Pop Collections.