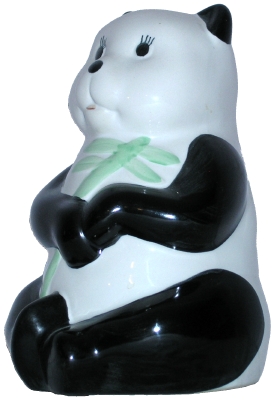 This 12-ounce glazed ceramic mug, produced for Dynasty Wholesale, depicts a Giant Panda, a bear-like mammal, holding a bamboo shoot. Next to its right shoulder is a straw hole with a larger opening on the reverse side for adding your favorite beverage. On the bottom of this mug is "Made in China" and "DW129″.
The Giant Panda is a black-and-white colored bear-like mammal that is native to south and central China. The Giant Panda lives almost entirely on the bamboo, although, they will eat eggs, fish, and some insects. The Giant Panda is an endangered species with only an estimated 1600 living in the wild.
Found in the Dynasty Wholesale, Mug, and Orientalia Collections.