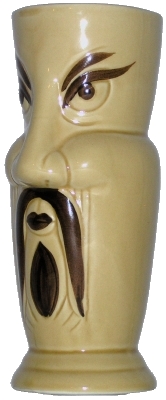 This glazed ceramic mug, produced for Dynasty Wholesale, is most likely a reproduction of the Orchids of Hawaii R-82 (Fu Manchu). On the bottom of this 15 ounce ceramic mug is imprinted "Made in China" and "DW118″.
Dr Fu-Manchu, after whom this mug is modeled, was first introduced in Sax Rohmer's novel "The Mystery of Dr. Fu-Manchu" in 1913.
Imagine a person, tall, lean and feline, high-shouldered, with a brow like Shakespeare and a face like Satan, a close-shaven skull, and long, magnetic eyes of the true cat-green. Invest him with all the cruel cunning of an entire Eastern race, accumulated in one giant intellect, with all the resources of science past and present, with all the resources, if you will, of a wealthy government–which, however, already has denied all knowledge of his existence. Imagine that awful being, and you have a mental picture of Dr. Fu-Manchu, the yellow peril incarnate in one man.

Nayland Smith to Dr. Petrie
"The Insidious Dr. Fu Manchu"
Mugs similar to this can be found on pages 101-102 of Tiki Quest - Collecting the Exotic Past by Duke Carter.
Found in the Dynasty Wholesale, Mug, and Orientalia Collections.