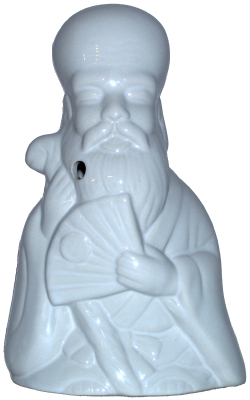 This glazed ceramic mug depicts the likeness of Jurojin, the God of Longevity, one of Japan's Seven Lucky Gods. He occupies the same body as Fukurokuju, the God of Wisdom and Longevity. He is often depicted as an old man with a long white beard and an unusually high forehead. In this depiction, he is wearing a robe, carrying a staff, and holding a fan. You can see his feet peaking out from under the bottom of his robe.
There is hole in his beard for a straw and a larger hole in the back for adding a beverage. On the bottom, in raised lettering, is "DW130″ and "Made in China".
Similar mugs in my collection include the Benihana Fukurokuju mug.
Found in the Dynasty Wholesale, Mug, and Orientalia Collections.