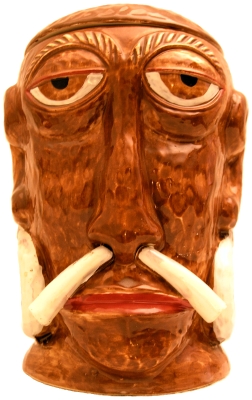 This ceramic mug of a headhunter with a bone through his nose was made by Otagiri for the Bali Hai Restaurant in San Diego, CA. On the bottom of the mug, which is concave, are the following: "'Mr Bali Hai' made exclusively for the Bali Hai Restaurant", "San Diego, Calif."
Similar mugs in my collection include the Tiki Farm Mr Bali Hai mug.
This Tiki mug can be found on page 17 of Tiki Quest - Collecting the Exotic Past by Duke Carter.
Found in the Labeled, Mug, Otagiri, and Polynesian Pop Collections.