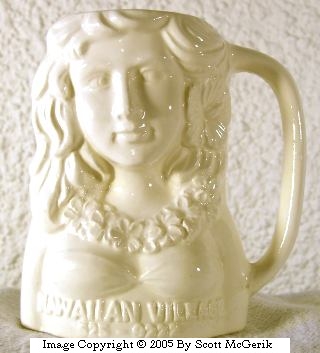 This all-white, eight-ounce, glazed ceramic mug stands 4 1/2-inches tall. It was made for the Hawaiian Village, a now-closed Polynesian restaurant located in New Westminster, BC, Canada. Hawaiian Village is mentioned on page 230 of Tiki Road Trip by James Teitelbaum.
The front of the mug depicts a Hawaiian woman with a hibiscus over her left ear and a lei about her neck. On the front it reads "Hawaiian Village" and "525-9222″ and on the bottom is imprinted "Ernelli", "Vancouver, Canada" and "Made in Japan".
Found in the Hawaiiana, Labeled, Mug, and Polynesian Pop Collections.