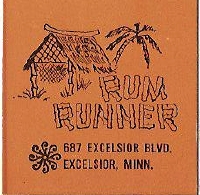 This matchbook is from the Mai Tai restaurant in Excelsior, MN. This restaurant closed in 1989 and was founded by John Logan, former head chef at the Ambassador Hotel in St. Louis Park. According to Tiki Road Trip, 2nd Ed. by James Teitelbaum, the Mai Tai was Marvel Comics kingpin Stan Lee's favorite Tiki bar.
On the front outside cover of the matchbook is "Mai Tai" with a drawing of a restaurant in the background. Printed on the back outside cover is printed "Rum Runner" and "687 Excelsior Blvd. Excelsior, Minn." with a grass hut and palm tree in the background. On the inside cover is "Famous for Polynesian & French Cuisine" and "Located on Lake Minnetonka."
In addition to this matchbox, I have a matchbox from the Mai Tai restaurant in Excelsior.
Found in the Labeled, Matchbook, Polynesian Pop, and Twin Cities Collections.